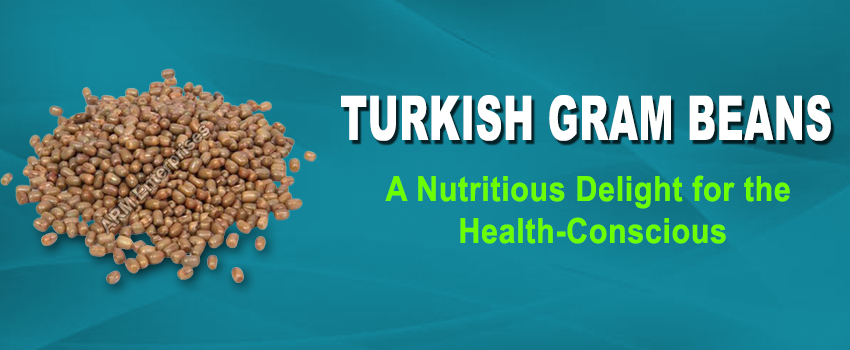 Turkish Gram beans are the standout component in terms of being wholesome and nutrient-dense. These little legumes, commonly referred to as garbanzo beans or chickpeas, are a prominent ingredient in Turkish cooking. They are quite well-liked all throughout the world now. These beans have a distinct flavor character and are brimming with vital nutrients. Anyone looking for a healthy and delicious supplement to their diet should give Turkish Gram beans a try.
Nutritional Powerhouse: A Closer Look at Turkish Gram Beans -
Turkish Gram beans are packed with nutrients and provide a host of health advantages. Excellent plant-based protein sources include these legumes. They are therefore a great option for vegans and vegetarians. Building and mending tissues, bolstering the immune system, and enhancing general health all depend on protein.
Turkish Gram beans are also a good source of nutritional fiber. Fiber facilitates digestion, encourages satiety, and contributes to the maintenance of a healthy weight. By decreasing cholesterol levels and minimizing the risk of cardiovascular illnesses, it also supports heart health.
Essential Vitamins and Minerals -
Turkish Gram beans are rich in critical vitamins and minerals in addition to protein and fiber. They are a top supplier of folate, which is essential for cell growth and DNA synthesis. For pregnant women, folate is especially crucial since it helps to prevent several birth abnormalities.
Turkish Gram beans also contain a sizable quantity of iron, a mineral necessary for the transportation of oxygen and the synthesis of energy. Fatigue and poor cognitive function can result from iron shortages. Because of this, including these legumes to a diet can help prevent such deficits.
Versatility in Cooking -
Turkish Gram beans are excellent for cooking because of their flexibility. These legumes may be used in a variety of ways to improve flavors and add texture to recipes from across the world as well as traditional Turkish fare.
Turkish Gram beans that have been roasted make for a tasty and nutritious snack. Toss them with olive oil, salt, and any additional spices of your choice before baking them until they are crisp and golden brown. They may also be blended to a consistency similar to flour to produce pancakes and flatbreads that don't contain any gluten.
Turkish Gram beans are a key component of the globally popular hummus, a creamy dip. For a tasty and nourishing spread, combine them with tahini, garlic, lemon juice, and olive oil. They may also be used to lend a delicious nutty flavor and robust texture to soups, stews, salads, and curries.
Easy to Incorporate into a Healthy Diet -
Turkish Gram beans are easy and satisfying to include in a balanced diet. Both dry and canned varieties are readily available in the majority of supermarket stores. Turkish Gram beans that are dried must be soaked and cooked before use. Although canned versions just need to be rinsed.
Turkish Gram beans are delicious when combined with nutritious grains like quinoa or rice to create a filling and balanced meal. Include a variety of colorful veggies as well. For optimum nutrition, this combination offers a well-balanced blend of macronutrients and micronutrients.
Turkish Gram beans enhance meals' flavors while providing a wealth of health advantages. These beans are a great option for people looking to eat a healthy, balanced diet due to their outstanding nutritional profile, which includes protein, fiber, vitamins, and minerals.
They may be used in a broad variety of dishes, from snacks to main entrees, due to their adaptability in the kitchen. So why not try Turkish Gram beans and enjoy all their goodness? Your health and taste senses will appreciate it.